As we get into the warmer months, we are likely to be greeted by a slew of new smartphones, services, and more. This week, we received a long-awaited update to Gmail, along with a launch date for the OnePlus 6.
Gmail redesign launched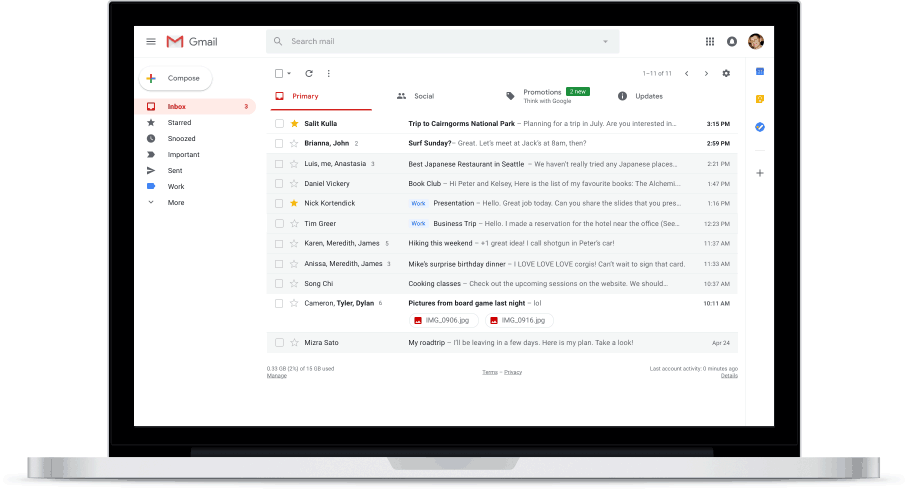 Gmail has been one of Google's more-neglected products as of late. However, the company has finally
updated the web client
with a fresh coat of paint and more.Some of the new Gmail features include the ability to snooze emails for later, smart replies, and new phishing warnings. The new web client is rolling out to users everywhere, while an updated app is also on the way.Alongside the refresh, Google also released an overhauled "Tasks" service. This includes integration with Gmail, making it even easier to keep track of your emails.
Amazon Fire TV Cube teased
Last year, rumors began swirling about a possible new Fire TV device. This would look more like a cube and would feature hands-free Alexa interaction and more.The rumored Fire TV Cube has now been teased by Amazon. Currently, the online retail giant is allowing interested parties to subscribe to learn more. Unfortunately, there is no mention of a possible launch date.
"YouTube Remix" could replace Google Play Music
Google Play Music (GPM)
has been the company's de-facto music streaming client for years. That could be coming to an end according to recent rumors.The latest report states that
YouTube Remix will be launched at some point in 2018
. The music streaming service would be geared to take on the likes of Spotify and Apple Music while replacing GPM.While it's unclear whether Play Music will go away entirely, YouTube Remix is expected to take over as Google's premium streaming platform. The changes are expected to come by the end of this year.
Xiaomi Mi 6X announced
Xiaomi has
officially announced
the Mi 6X, more than a year after the Mi 6 was introduced. This handset sports a 5.99-inch display and is powered by the Snapdragon 660 chipset with either 4GB or 6GB of RAM.The device also includes up to 128GB of onboard storage, along with a 3,010mAh battery. On the rear, Xiaomi included a dual-camera setup with a primary 20MP sensor and secondary 12MP lens.Pricing for the Mi 6X starts around $250 and it will go on sale in China at the end of this month.
OnePlus 6 is coming May 16th
https://www.youtube.com/watch?v=Ie1z_zM3k4YAfter months of rumors, leaks, and teasers, the OnePlus 6
finally has a launch date
. The company will be unveiling its latest and greatest at an event on May 16th.It will be held in London, and comes with the tagline "The Speed You Need". Stopping short of confirming any more information about the device, OnePlus did add that the event will be live-streamed for the world to watch.We are expecting to see a
6-inch display
, including a notch that can be hidden with software. Powering the OnePlus 6 will be the Snapdragon 845 along with at least 6GB of RAM. Pricing for the device is likely to be around $550-$600.
LG G7 ThinQ will come with notch and headphone jack
The terribly named LG G7 ThinQ will be unveiled on May 2nd, but
a new render shows off the device from all angles
. While the display will include a notch, LG will also be bringing back the headphone jack.LG has also stated that the G7 ThinQ will include "the brightest and most vibrant" screen found on a phone. This follows reports that the display could have a brightness as high as 1,000 nits.When compared to other handsets on the market, that 1,000 nit threshold would certainly be the highest. Hopefully, this will make it possible to view the display regardless of difficult lighting conditions.
Huawei P20 Pro named "Best Photo Smartphone"
After being introduced earlier this month, the
Huawei P20 Pro
has been garnering praise from critics everywhere. The handset includes three rear-mounted camera sensors creating a truly unique imaging experience.Performance reviews of the camera have been mostly positive. In fact, the Technical Image Press Association (TIPA) has given the P20 Pro the award for "
Best Photo Smartphone
" at IFA GPC 2018.The handset was also awarded a score of 109 by DxOMark. This puts it ahead of the Galaxy S9 Plus, Pixel 2, and iPhone X.
Alphabet reports Q1 earnings
Google's parent company Alphabet has released its
Q1 2018 earnings report
. This shows revenue of $31.1 billion, along with $7 billion in operating income. Compared to 2017, this represents an increase of 26% and 22%, respectively.As for Google specifically, the company had a revenue of $150 million, which represented a $571 million loss. This does not mean that the dark days are coming for Google, as the loss was actually an improvement when compared to 2017.
Google looks to change the way you listen to podcasts
This past week has been quite busy for Google, as the company also introduced
a new way to listen to podcasts
. Instead of downloading a specific app from the Play Store, you can now play your favorite podcast from Google search results.After you have found the episode you want, you can press the "Play" button next to the listing and the episode will begin. Google Assistant integration is also onboard, so you can simply use "OK Google, play [----] podcast" and it will begin.This feature is already available, so why not give it a go.
Similar /
posts
April 27th, 2018
Updated on February 19th, 2019
April 27th, 2018
Updated on February 19th, 2019
April 27th, 2018
Updated on February 19th, 2019