This week, on our weekly firmware news roundup: Unlocked Galaxy Note 9 and S9 units are getting Android 10 in the US, unlocked LG G8 ThinQ do so as well, and more!
What's New This Week?
LG
The unlocked variant of the LG G8 ThinQ is now receiving the latest version of Android in the US
Samsung
Android 10 is now reaching unlocked Galaxy Note 9 and Galaxy S9 units in the US
US-unlocked variants of the Galaxy S10 and Note 10 are now receiving the February security patch
LG
LG G8 ThinQ
As per usual, unlocked, US variants are a little bit behind in terms of receiving the latest updates. Android 10 had already been out for the G8 ThinQ in both South Korea and a few US carriers, but it's now available for the unlocked, US variants as well!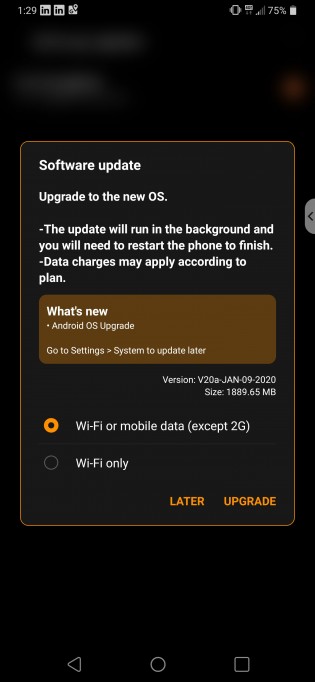 It weighs 1.9 gigabytes and if you haven't got it already, then you should get the notification in a few days or a couple of weeks at most. Assuming, of course, that this is an incremental update.
As per usual, apart from Android 10, you can expect to get most of its features as well. Google's new gesture-based navigation system, Focus Mode, improved privacy controls, improved Digital Wellbeing, and, of course, January's security patch.
Samsung
Galaxy Note 9 and S9 (US Unlocked)
Android 10 started being delivered to Galaxy Note 9 units in the US about a week ago. But, that was only for specific carrier-locked devices. That's changing now as the very same update is being delivered to the unlocked variants as well!
This includes both the Note 9 and S9. And while the Note 9's update had been out for a while in other regions, the S9 only started receiving it in Germany a bit more than a week ago. So, it's definitely impressive to see it being delivered to the US so quickly.
It weighs about 2 gigabytes and brings the very same features that we've seen before. That includes the January security patch, One UI 2.0, Focus Mode, Google's new gesture-based navigation mode, improved privacy controls, Android 10, and more!
It also goes without saying that minor patches and improvements have been made as well!
Galaxy Note 10 and S10 (Universally)
The February security patch for the Note 10 and S10 became universally available a bit more than a week ago. Seems like it's now available for the unlocked, US variants as well!
More often than not, the US variants tend to stay quite a bit behind than their global alternatives. But, for some reason, Samsung has been consistently pushing updates in a very fast manner to their US models as of lately.
Apart from the February patch, the changelog also mentions minor stability improvements along with performance improvements. Since it only weighs 211 megabytes, we expect that there are no major additions.
That's all for now. We'll let you know if anything else comes up. So, stay tuned!
Feel like we forgot to mention something important? Got anything wrong? Then let us and everyone else know about it in the comments section down below!
Like what you see? Then don't forget to follow us on Facebook and Twitter for the latest news, reviews, listicles, apps, games, devices, how-to guides, and more!